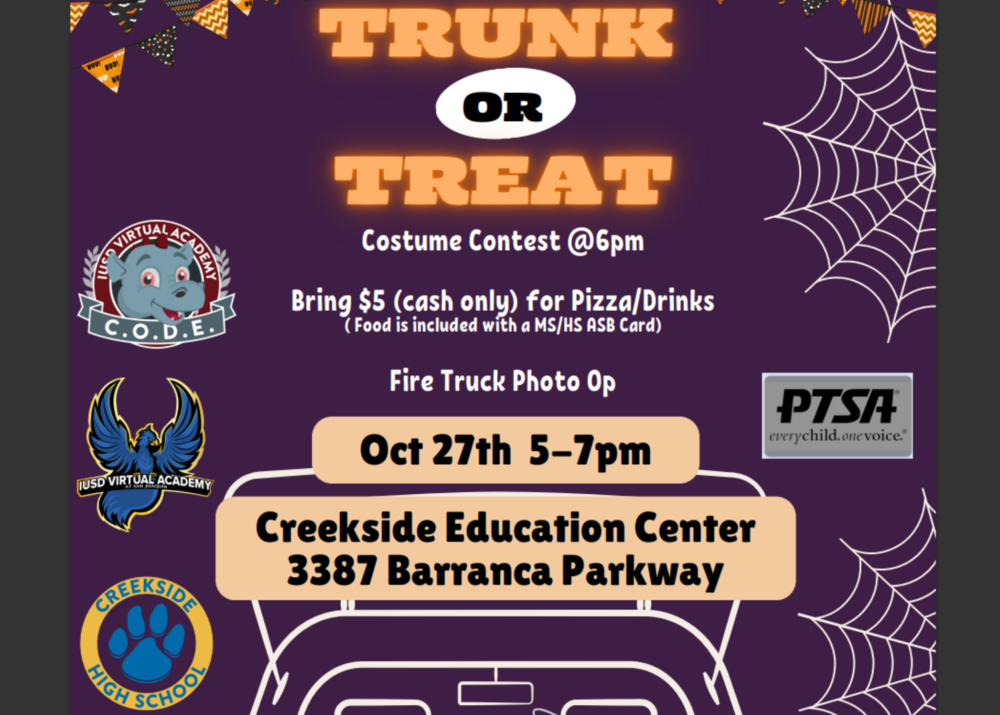 Hello IVA/Creekside families! 

We're hosting our 2nd Annual Trunk or Treat event on Friday, October 27th, from 5:00-7:00pm. We're partnering with IVA Elementary and the event will take place in the parking lot of Creekside High School (3387 Barranca Parkway).  Join us for a fun night of costumes (including a costume contest!), music, decorated car trunks, lots of candy, and fun handouts from various community sponsors. Pizza and drinks may be purchased for $5 per person (cash only) and are FREE with an ASB card. 

In order for us to ensure we have enough pizza, please RSVP by clicking HERE. ​

WAYS YOU CAN HELP
1. We need volunteers to decorate their trunks and pass out candy! If you would like to do so, please let us know when you complete the RSVP form. Families who are decorating their trunks must arrive between 4:00-4:30. 
2. If you are unable to decorate your trunk but would like to contribute, we would welcome candy donations! You can drop them off at the PTA table when you arrive (a map with a layout of the lot will be shared the week of Oct 23). This will help ensure that our Trunk volunteers and vendors have enough candy to distribute in case they run out. 

See our flyer below for more details!