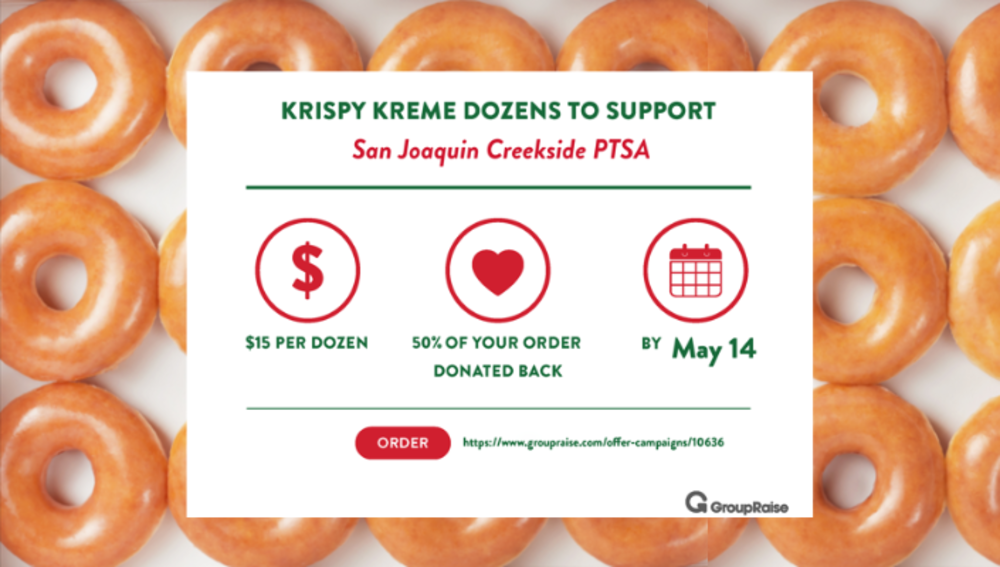 Hi San Joaquin and Creekside Families,
Did someone say donuts? We need your help & all it involves is eating a few doughnuts 🍩🙌   With 10 days left of our Krispy Kreme fundraising campaign, we are at 55% of our goal. That's only 9 dozen to go! How can you help? Order doughnuts for your household, family or friends, $15 per dozen, and 50% of your order will be donated back to San Joaquin Creekside PTSA. That's right, 50% comes back to our PTSA!
How does it work?
Click on this link to order yours today, https://www.groupraise.com/offer-campaigns/10636. You will receive a code to redeem your dozen at any Krispy Kreme store across the nation at any time! It's a perfect way to send a sweet gift to someone special. Have a meeting coming up? Be a superstar and bring in a dozen or 2 to your meeting. Birthday parties, upcoming holidays, or any day! Help us spread the word. Thank you for your support!
#krispykreme #doughnuts #groupraise #digitaldozens #krispykremefundraiser #sanjoaquincreeksideptsa #donuts #fundraiser #irvine #treatyourself