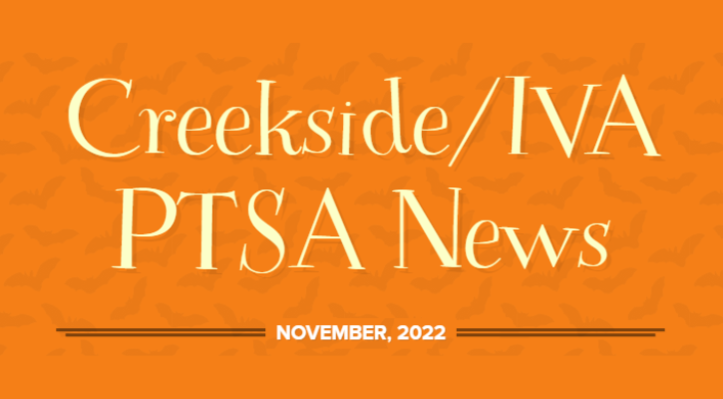 TRUNK OR TREAT
Thank you for joining our first Trunk or Treat Friday 10/28! It was a great success!
We appreciate those who sponsored a trunk for our students to enjoy!
SPIRITWEAR!
EXTENDED DEADLINES for our Online Spiritwear Store. Order TODAY! Our spiritwear links will be live until November 5th. Orders will be shipped to the San Joaquin Creekside campus and you will be notified when your order has arrived.
IVA LINK TO ORDER
For San Joaquin Middle and High School spiritwear please use this link: https://sanjoaquin2223.itemorder.com/shop/home/
CHS LINK TO ORDER
For Creekside High School spiritwear please use this link: https://creekside2223.itemorder.com/shop/home/
Reflections Art Program is still open. The theme is "Show Your Voice"
All students are welcome to submit their creations in the following categories:
Dance Choreography

Film Production

Literature

Music Composition

Photography

Visual Arts

Special Artist Division
Here are the rules for the program, and here are the rules/guidance by category.
Reflection submission date has been extended to DUE NOVEMBER 4th by 5:00 PM.
Please submit your entries using this form: SJC Reflections Submission
You are invited to our next San Joaquin Creekside PTSA meeting at 3:30 pm on Tuesday November 15th.
Q&A with Dr. Roberts and staff so Bring your questions!
Zoom Link for our meeting is here. Meeting ID: 829 4472 8762 & Passcode is PTSA
JOIN US for our Dine Out at Chipotle on Wednesday November 9th from 4-8 pm
Please invite and share with all your friends and neighbors!
ORDER ONLINE FOR PICKUP USING CODE MARHHQL OR SHOW THE ATTACHED FLYER IN RESTAURANT.
https://socialportal.chipotle.com/fundraiser/social/partner/portal/luy3MfvgLGkhLU66JPG3fhHwP0H1H6ht006fRuOlWA4FV0We2rAYLG8RBEYKbe4poP3i7ffUjRwlQ4IAjyGhZZs2MoJYeWOeEEP3uJxznRrMOHIe2o7XiaaFiTdkCsCM/7202211091620
Our PTSA Membership and Pledge Drive is ongoing! JOIN now!
Scan the QR code or click the link below to JOIN our San Joaquin Creekside PTSA
https://jointotem.com/ca/irvine/san-joaquin-creekside-ptsa
Volunteer Opportunities!
We would love to have your input on our PTSA with as much (or little) time as you might be able to give. Joining the PTSA does not commit you to volunteering so please consider joining and/or volunteering. Feel free to reach out to me directly if you have any interest in the following positions:
Executive Vice President

Historian

Auditor

Financial Secretary
Connie Stone
President
San Joaquin Creekside PTSA
714-335-6028