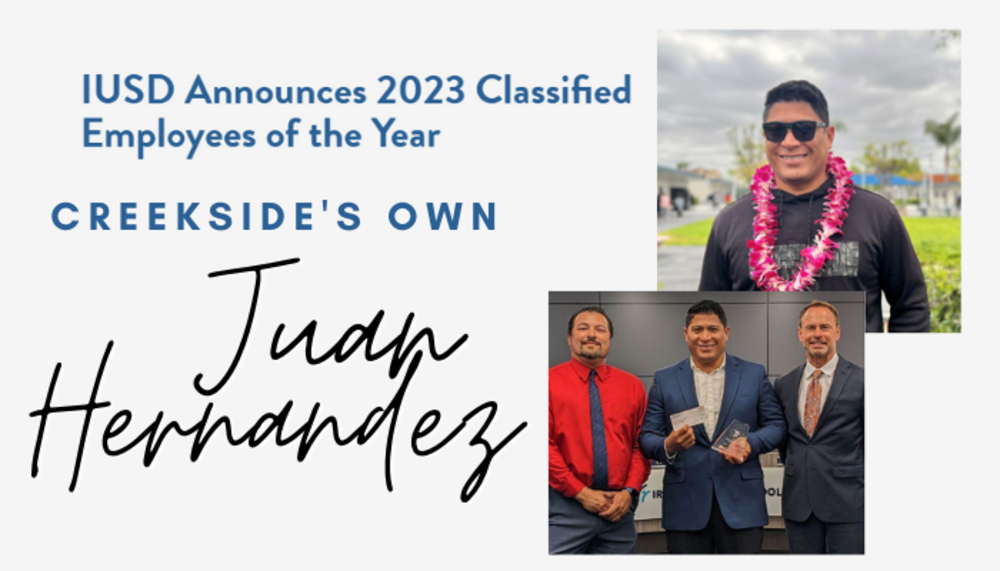 Congratulations to our CCA Juan Hernandez who was selected as an IUSD Classified Employee of the Year!
A caravan from the District, including Board Members Lauren Brooks and Katie McEwen, Superintendent Terry Walker, District staff and CSEA President Gus Talamantes traveled to Creekside to surprise Juan in front of his family, colleagues and students.   
Campus Control Assistant Juan Hernandez is a role model to staff and students on Creekside High School's campus. He frequently proposes new ways to positively impact the culture, creating engagement opportunities for the students who often feel like school is not for them. Juan has helped improve self-esteem, school connectedness and attendance. Juan approaches everything with a "can do" attitude, volunteering for the SEL team. Every morning Juan greets students as they enter campus and offers them breakfast. Throughout the day he is highly visible on campus where you can find him chatting with students and offering advice. Juan will never say no to helping out anyone, making him truly deserving of this honor.