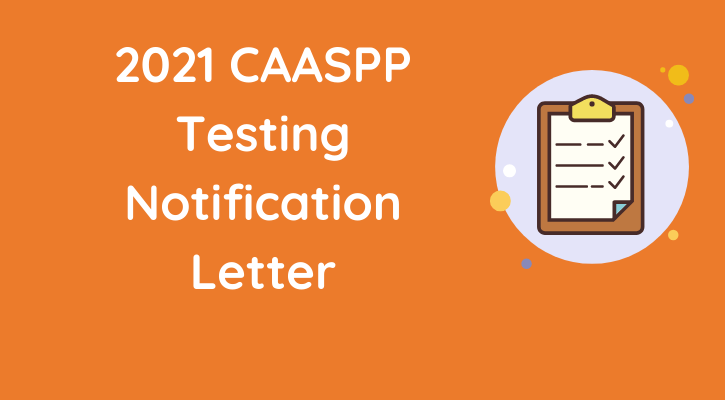 2021 Parent and Guardian CAASPP Notification
Translated Letter: Spanish
Dear Parent/Guardian:
Each spring, 11th grade students participate in the California Assessment of Student Performance and Progress (CAASPP) to provide information about their skills in English-language arts/literacy (ELA) and mathematics.  These assessments reflect California's rigorous academic standards, and allow students to demonstrate analytical writing and critical thinking skills as well as their knowledge of facts.  CAASPP assessments provide one piece of information about student progress and should always be interpreted as one of multiple measures of a student's skills.  
Remote Testing
Given the current circumstances, your child will be taking all of their assigned state tests remotely this year.  Please review the following guidelines:
You may assist your child with setting up the technology used to enter the test session.
Students will need the state's secure browser to access the test.  Download the secure browser prior to testing by using the directions below for your device.  Please note that if your student is using a district device they do not need to complete these steps - the information is preloaded onto the device.
Directions for Downloading the Secure Browser on Windows How-To Video for Windows
Directions for Downloading the Secure Browser on a Mac How-To Video for Mac
To maintain test security, do not talk about the test questions or any test materials with anyone before, during, or after the test. 

No one may record the test, or use a camera or other device to take pictures of the test questions or of your child taking the test. This helps to keep the questions confidential.

During the test, a teacher will observe your child using a web camera and microphone. The camera is only used to observe your child and their surroundings during the test and will not record the session.  

If your child cannot use the computer's camera, microphone, and speaker or headphones during remote testing, you may contact Pat Haxby at

pathaxby@iusd.org

to check out a district device or to ask about other test administration options such as in-person testing following state, county, and local health and safety requirements. 
Testing schedule
Monday, April 26 - we will be conducting a practice session at 8:30 AM  with all students to ensure everyone can log on.  More information will be emailed out later this week.

Monday, May 3rd - all juniors will take the English portion of the test

Monday, May 10 - all juniors will take the Math portion of the test

Monday, May 17 - make-up testing for all those who did not complete their testing on May 3rd and May 10.  Students may elect to come in person for make-up testing.
Helping Your Child Prepare for Testing
Here are some tips to help prepare your child for testing:
Test Scores and Additional Information
Student scores will be available electronically through Parent Portal in the fall.  For more information about the assessments, please visit the IUSD Statewide Testing website at iusd.org/statewide-testing or the CDE CAASPP web page at www.cde.ca.gov/ta/tg/ca/.  
If you have any questions, please contact Natalie Hamilton at nataliehamilton@iusd.org or (949)936-7406.